BUSHBABY 2: THE NEW TRICK
---
Andrew Davis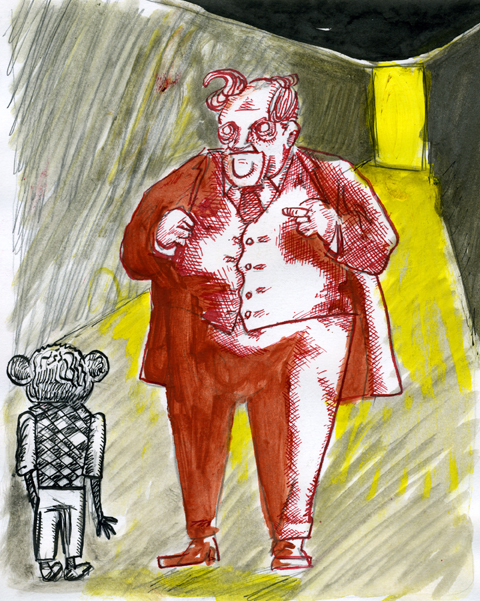 W wandered down the hall. A crimson vision of Uncle Dick loomed over W.
"Where did you see blood, son? It was an image created in your mind."
"I cannot tell a lie, I cut down the cherry tree," said W.
"Fall, ball, wall," said Uncle Dick.
"Bake, fake, cake," said W.
"Why, I have a dozen children tied up in the shed out back. Iím starving them so I can say they died of malnourishment. Their immigrant parents are in jail, so it wonít matter."
"I see what you mean," said W.
PAST ANTIPURPOSE:
BUSHBABY 1: THE PANTOM LIMB
CHICKEN MASK
I RIDE OLD PAINT
BABY SHIT
GHOST KID
NO FANCY FELLOWS
GESUSFUNLAND
SALVATION
PLAYMATE
YES LORD
MUDHOLE
POLITE WAITER
FRIEND OR FOOD
MONKEYSUIT
PROPHECIES FROM THE MAGIC NUT
HOMELEE THE HOMELESS DWARF
A MESSAGE FROM THE HEAVENLY PIG
BABY CULT
BABY JANE BOZO
SNAKEFLOWERS
HEAVENLY PIG
PILLAR OF PURPOSE
SPILT MILK SUNDAYS
STATEMENT OF ANTIPURPOSE
Andrew Davis lives in Bloomington, IN, where he works with ceramics, college students, comics and paint -- this series is toward a greater 40 days of Antipurpose, future bible of the Church of Motivation Without Direction, in which Davis is an ordained minister and a firm believer that if all else fails, at least he had very little to do with it.
082107