CHICKEN MASK
---
Andrew Davis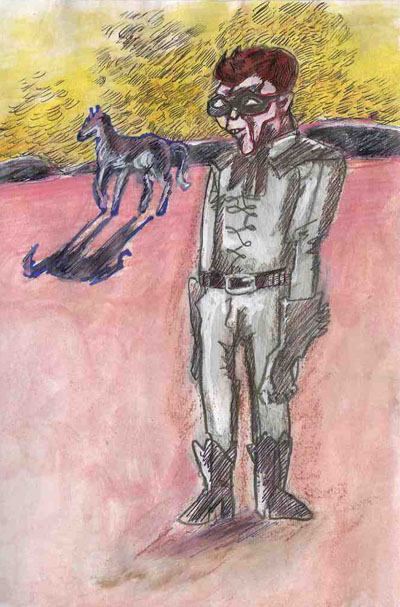 A disease was spreading through the west. It started with chickens and soon spread to larger animals, eventually infecting humans. There was no known cure. A man in a mask stood alone in confusion. He was wondering if he could trust his horse anymore. For years he had not lived up to the B-western hero image proclaimed by the mask. He thought of constructing a different kind of mask. It would resemble the face of a chicken. The outside of the mask would be soft and white, covered with clean peaceful feathers. The mask could also be worn inside out to reveal the red and angry flesh of the inside. The chicken mask would be worn as a sign to others, a sign that told whether or not he could be trusted.
PAST ANTIPURPOSE:
I RIDE OLD PAINT
BABY SHIT
GHOST KID
NO FANCY FELLOWS
GESUSFUNLAND
SALVATION
PLAYMATE
YES LORD
MUDHOLE
POLITE WAITER
FRIEND OR FOOD
MONKEYSUIT
PROPHECIES FROM THE MAGIC NUT
HOMELEE THE HOMELESS DWARF
A MESSAGE FROM THE HEAVENLY PIG
BABY CULT
BABY JANE BOZO
SNAKEFLOWERS
HEAVENLY PIG
PILLAR OF PURPOSE
SPILT MILK SUNDAYS
STATEMENT OF ANTIPURPOSE
Andrew Davis lives in Bloomington, IN, where he works with ceramics, college students, comics and paint -- this series is toward a greater 40 days of Antipurpose, future bible of the Church of Motivation Without Direction, in which Davis is an ordained minister and a firm believer that if all else fails, at least he had very little to do with it.
033007