GHOST KID
---
Andrew Davis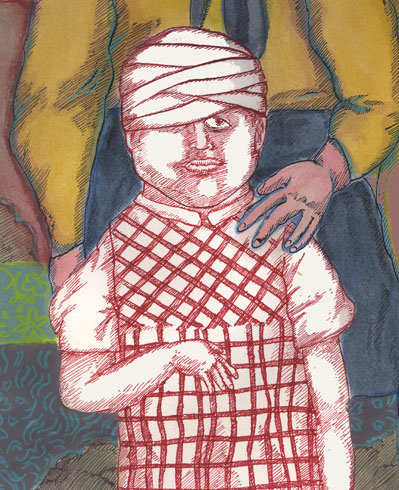 He's looking paler now than I've ever seen him. Maybe I never really looked before. There are crow's feet forming at the corners of his eyes: definite sign of age. But how can you age when you're a... My parents came to visit; they didn't notice he was there, or did they? We ate potato dumplings and sauerkraut in a hotel restaurant that smelled like piss from years of said sauerkraut seeping into the burlap decorations. We went outside and there was a large cage with a peacock in it. Where does it go in the winter? Do they just forget about it and it disappears? If I forget about him will he disappear?
PAST ANTIPURPOSE:
NO FANCY FELLOWS
GESUSFUNLAND
SALVATION
PLAYMATE
YES LORD
MUDHOLE
POLITE WAITER
FRIEND OR FOOD
MONKEYSUIT
PROPHECIES FROM THE MAGIC NUT
HOMELEE THE HOMELESS DWARF
A MESSAGE FROM THE HEAVENLY PIG
BABY CULT
BABY JANE BOZO
SNAKEFLOWERS
HEAVENLY PIG
PILLAR OF PURPOSE
SPILT MILK SUNDAYS
STATEMENT OF ANTIPURPOSE
Andrew Davis is an ordained minister of the Church of Motivation Without Direction and a firm believer that if all else fails, at least he had very little, if not nothing, to do with it.
120805