I RIDE OLD PAINT
---
Andrew Davis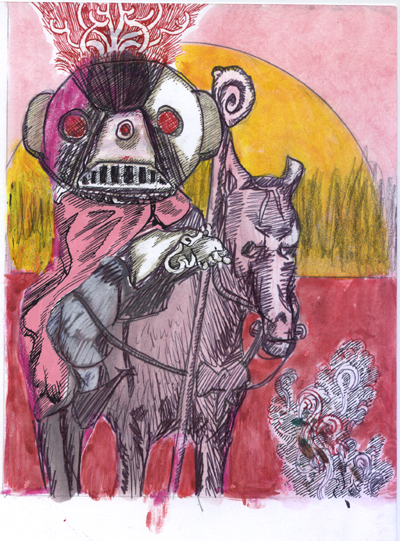 My horse ainít hungry, and he wonít eat your hay. And when my bones come back ridin' Old Paint, donít feed him -- turn him away. I trained him, and I trained him good. "Old Paint," I said. "If youíre wanderin' down a path and all there is to eat are berries, eat berries. But donít eat shit."
PAST ANTIPURPOSE:
BABY SHIT
GHOST KID
NO FANCY FELLOWS
GESUSFUNLAND
SALVATION
PLAYMATE
YES LORD
MUDHOLE
POLITE WAITER
FRIEND OR FOOD
MONKEYSUIT
PROPHECIES FROM THE MAGIC NUT
HOMELEE THE HOMELESS DWARF
A MESSAGE FROM THE HEAVENLY PIG
BABY CULT
BABY JANE BOZO
SNAKEFLOWERS
HEAVENLY PIG
PILLAR OF PURPOSE
SPILT MILK SUNDAYS
STATEMENT OF ANTIPURPOSE
Andrew Davis is an ordained minister of the Church of Motivation Without Direction and a firm believer that if all else fails, at least he had very little, if not nothing, to do with it.
110906