YES LORD
---
Andrew Davis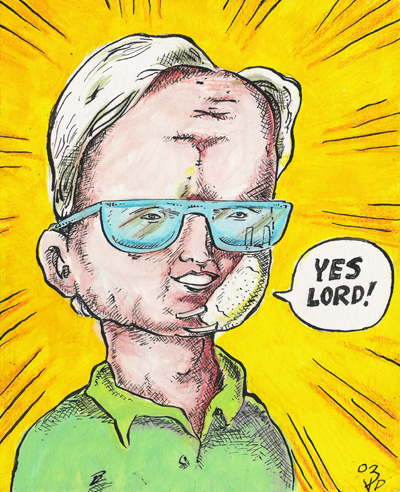 Shit Heel Sam left a trail of shit wherever he went. And that wasn't his main problem. He needed glasses very badly. No glasses would stay on his face because he was missing an ear. The hospital told him they could not reconstruct his ear on account of his AIDS. Seeking justice he contacted the local television station and soon had people rallying around his cause. The reporters asked him where he would go once his ear was reconstructed and he could wear glasses. Shit Heel Sam said he's going to the strip club.
PAST ANTIPURPOSE:
MUDHOLE
POLITE WAITER
FRIEND OR FOOD
MONKEYSUIT
PROPHECIES FROM THE MAGIC NUT
HOMELEE THE HOMELESS DWARF
A MESSAGE FROM THE HEAVENLY PIG
BABY CULT
BABY JANE BOZO
SNAKEFLOWERS
HEAVENLY PIG
PILLAR OF PURPOSE
SPILT MILK SUNDAYS
STATEMENT OF ANTIPURPOSE
Andrew Davis is an ordained minister of the Church of Motivation Without Direction and a firm believer that if all else fails, at least he had very little, if not nothing, to do with it.
092805