COME AND GET IT
---
Emerson Dameron
EXHIBIT A
The following are transcripts of voicemails retrieved by one Charlotte Hauser at 3:30 PM, Saturday, June 11, 2005.
FIRST MESSAGE, 2:41 PM, YESTERDAY
"Um, hi, Charlotte. It's Jeff. Just called to see how you're doin', and to wish you a happy birthday...yesterday. So Happy Day After Your Birthday. Sorry I couldn't make it to that art thing...I had some business to take care of. I did not forget to get you a birthday present. Smatterafact, I'm rolling up to the dollar store as we speak. As I speak. Anyway, maybe we can get together later, so I can give it to you. I'll give you a call later on. Until then." *MESSAGE DELETED*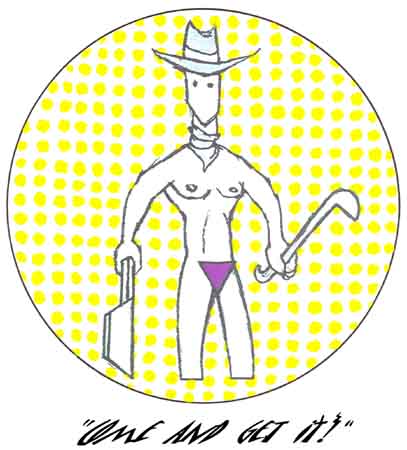 SECOND MESSAGE, 3:29 PM, YESTERDAY
"Hey, Charlotte; it's Jeff. Just got out of the dollar store, and since I know you hate surprises, I'm gonna go ahead and tell you what I got for you. It's a tote bag…made out of some plasticlike substance. It's not very big, but I think it'll fit your sketchbook, and your iPod...and maybe one other...thing...if you wanna put one more article of stuff in there. It's got a cowboy on it...actually two identical cowboys...on either side. He's got a hat on...and little dots for eyes. Actually, the whole thing is kind of a dot matrix...which made me think of you...'cause I know you love Liechtenstein. Anyway, he's got a purple triangle over his crotch area. He's got a pot of some kind, and he's bangin' on it with a ladle, and down at the bottom, it says, in this kind of faux-cursive font, it says "Come and Get it!" And it's funny, 'cause it has an exclamation point after it. It's made by this company called...Accoutrements. They're based outta Seattle, but they offshored the production on this thing to China. Anyway, that's about it. Right now, I'm on my way to buy a gong, from this music store in the Village...that sells gongs. I'll call you later, and maybe we can meet up. Bye." *MESSAGE DELETED*
THIRD MESSAGE, 4:45 PM, YESTERDAY
"Hey, Charlotte; it's Jeff. Just got out of the gong store, and they're a rip, gongs. Too fucking expensive. But then I looked at this tote bag, and this cowboy's lookin' up at me, and he says, 'Jeff. I didn't need to shell out for a gong. I just went back to the kitchen, and grabbed this pot, and started bangin' on it.' So I'm gonna buy a pot, and a ladle...or, like, a wok, or something, and it's gonna be straight DIY. And it's gonna be good times. Big things. Big things are in the air, Charlotte. Anyway, if you wanna hear all my ideas for the band, and bring me up to date on what you're up to, I'm gonna be at the Sleepy Crab, prolly around ten or so...and that's at 2310 W. Virginia, not West Virginia Avenue, which runs north-south, as you know. Actually, it's kinda near the corner of Virginia and West Virginia. Anyway, I hope I'll see you later. Later." *MESSAGE DELETED*
FOURTH MESSAGE, 6:36 PM, YESTERDAY
"Hey, Charlotte. It's Jeff again. I'm looking at this tote bag, and I just noticed the cowboys aren't the same on either side, that this one guy's got yellow splotches all over his face and his neck, and he doesn't look right. He looks sick or something. I'm gonna buy you another present...I'm just pissed about it. It just fucking sucks. Maybe I'll get you a book, a coffee table book. I dunno. I'm just kinda freaking out. I don't know where you are. Maybe you're working at the hotline or something. But if you're not busy, maybe you can come down to the bar. Anyway, hope I'll see you there. Later." *MESSAGE SAVED FOR 60 DAYS*

FIFTH MESSAGE, 11:34 PM, YESTERDAY
"Heey, Charlotte! The band just played its first-ever live show! I wish you'd gotten to see it! It ended horribly! Dave got up and started playin' the piano in this bar, and I just kinda started slappin' this tote bag around...in accompaniment...and this asshole bartender comes up to us with, like, pure animal rage in both of his eyes. And he says we gotta 'cool it!' So we sit down, and finish our beers, and then Anwar buys us shots, and Dave does the black metal shit with his hand, and he's like, 'rock and roll.' And he gets up and just starts pummeling that piano with his fists! On some Thunderclap Newman type shit! So I go back to the bathroom, so I can, like, get the top off the back of toilet, and use that for percussion. And when I come back, this bartender is literally kicking Dave's ass! And he says, 'You're not allowed back in!' So I'm over here right now, and I'm waiting for you, and if you decide to come, you should bring a heavy pair of scissors, 'cause I wanna cut this tote bag...down the sides...and let this smug fuckin' cowbullen see his sickly other half. I mean, they go everywhere together, but that's the only way they'll ever meet, face-to-face. Anyway, come on down! And I'll see you when you get here!" *MESSAGE SAVED FOR 60 DAYS*
SIXTH MESSAGE, 1:27 AM, TODAY
"Hey, Charlotte. It's Jeff. I'm down here at the Sleepy Crab, and I just wanted to see if you were gonna make it. I just wanted to let you know, you don't have to worry about making it home…'cause I'm drinking cheap beer, so I'll have enough left over for cab fare...if you wanna go down to my place, or something. I hope I see you. I've been thinkin' about you, and I still have to give you your birthday present. So...yeah...I'll be here until a little after two, and if you can come on over, I'll make sure you don't regret it." *MESSAGE SAVED FOR 60 DAYS*
SEVENTH MESSAGE, 3:33 AM, TODAY
"You have a collect call from...'JEFF!' To accept the charges, press 'one.' To deny the charges, press 'two.'" *MESSAGE DELETED*
EIGHTH MESSAGE, 12:23 PM, TODAY
"Hey Charlotte, it's Jeff. I'm sorry about leaving all those messages yesterday. It was just kind of a weird scene. Anyway, I'm sorry. You know, I learned my lesson. I'm a better person now, the kind of person who wouldn't leave all those messages, when you're probably not even in town...you're probably in Iowa, or somewhere. Anyway, I... *MESSAGE DELETED*
THERE ARE NO MORE MESSAGES IN YOUR MAILBOX.
EXHIBIT B
"Come and Get It"
by Jeff Wallace
Come and get it! -- It's a brand new situation
Come and get it! -- You're feeling the vibration
Come and get it! -- The jets are in formation
Come and get it! -- It's such a fresh sensation
CHORUS:
By now you know that something's going on
Things won't be this way for very long
Come and get it! -- You won't regret it
Come and get it! -- The world is always spinnin'
Come and get it! -- Jack-o-lanterns keep on grinnin'
Come and get it! -- But when the saints start sinnin'
Come and get it! -- You'll see a new beginnin'
CHORUS
GUITAR SOLO
PIANO SOLO
CHORUS x2
GONG CRASH
Illustration by Reno
Emerson Dameron writes and publishes the Wherewithal zine in addition to contributing frequently to THE2NDHAND and a host of other publications.
091505