Home | Archive | Itineraries | Events | FAQ | Columns/Links
Advertise | Newsletter | About/Subscribe | Submissions | Art Walk | Books | THE2NDHAND Writers Fund



**PRINT: FRIENDS FROM CINCINNATI: Installment 24 features this part coming-of-age short by Chicago's Patrick Somerville, author of the Trouble collection of shorts out in 2006. | PAST BROADSHEETS |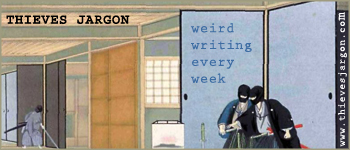 i-ALIBI
---
David Gianatasio
Feb. 3, 02.38 A.M. EST
To: Todd
From: Dave
Re: List

The cops are right outside the door. I've got like 10 seconds to write. WHOA! - I really had you going! Don't you get it, Todd? These e-mails ... they're all PART of the story told in the form of e-mails! Clever, huh? Maybe a little too clever. THIS is the finale - the big payoff. We'll laugh about it someday. And you thought I was serious! Real funny. Ha, ha, ha. Yeah.


Feb. 3, 02.26 A.M. EST
To: Todd
From: Dave
Re: List
WHAT DO YOU WANT, MONEY?! C'MON, MAN!


Feb. 3, 02.04 A.M. EST
To: Todd
From: Dave
Re: List

Where the hell are you? DAMMIT CALL ME RIGHT NOW! Look, there's been a terrible misunderstanding. Just talk to me so I can explain! It was all a joke. Just a joke!


Feb. 3, 01.06 A.M. EST
To: Todd
From: Dave
Re: List
OH MY GOD YOU POSTED THAT LIST! Take it down IMMEDIATELY! I tried your cell phone, but you didn't answer. TAKE THAT DAMN THING DOWN!!!!


Feb. 2, 11.49 P.M. EST To: Todd From: Dave Re: List
Sorry to pester. But you DID get my email about spiking that list, right? Sent totally by accident. It's just ... an idea for a story I might write someday. I'm especially concerned because you run a LITERARY WEB SITE and all. I'd hate for you to think it was some kind of story-as-list thing and post it. That would be crazy. Just nuts. So ... whatever you do, PLEASE DO NOT POST!!! SPIKE IT! Thanks!!


Feb. 2, 11.04 P.M. EST
To: Todd
From: Dave
Re: List
Hey, Todd. Please spike that e-mail I just sent. Having some computer issues here -- that "List" thing jumped from Word into Hotmail and sent itself. Damndest thing I ever saw. I'm a compulsive list maker. Have been since I was a kid. Can't stop myself. My shrink says it's OCD to the max: always with the lists. Especially when I'm under stress. It's crazy. Just ... um ... forget I sent it. Okay? Spike it. Now. Use that PERMANENT delete feature. Thanks, buddy.


Feb. 2, 11.03 P.M. EST
To: Todd
From: Dave
Re: List
Shopping for weekend. (Remember toothpaste, bottled water).
Withdraw $5,000.
Meet man behind Hogie Barn, give him the money, Lori's picture, layout of the house.
Make sure neighbors see me at cottage.
Phone rings twice -- then I'll know it's done.
Remember to spike this list!
BOOKS ACTUALLY WRITTEN BY MONKEYS USING TYPEWRITERS




010707