Home | Archive | Itineraries | Events | FAQ | Columns/Links
Advertise | Newsletter | About/Subscribe | Submissions | Art Walk | Books | THE2NDHAND Writers Fund



**PRINT: FRIENDS FROM CINCINNATI: Installment 24 features this part coming-of-age short by Chicago's Patrick Somerville, author of the Trouble collection of shorts out in 2006. | PAST BROADSHEETS |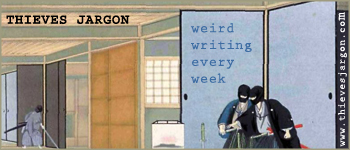 TO BED
---
Ryan Markel
Ryan Markel lives, writes, smokes, talks on the phone and drinks in Austin, Texas. He is the author of "101 Reasons Not to Have Children," a miniature book published by Featherproof Books. Not yet all of his ambitions have been thwarted.
Squelching my cigarette between my fingers and, with my foot, I close the laptop on the floor. I brush my teeth for a sober change and on upstairs, I crawl onto the futon, having put on an Arvo Part CD at a respectfully soft setting. I close my eyes and, again, they open. My laptop is open. Again. I know I am dreaming because the scope of my vision is only the computer screen. I am used to this, in a way, since my dream-scope has appeared before as sheet music with blank stanzas on which notes progressively materialize as my mind composes. (I cannot read music.) Or, I am reading a book, sometimes, as though through a magnifying glass. (I can read.) But this technology is new to me and the screen is blank. Scrolling down, scrolling down, scrolling down, I back up. A passage:
THE DEEPEST PART OF YOUR SICKNESS, ONLY YOU KNOW; IT BELONGS TO ONLY YOU AND, SO, AGAIN AND AGAIN, YOU FOLLOW THE PATH DOWN TO THAT WHICH BELONGS TO YOU AND ONLY YOU. THE EROSION OF THE PATHWAY.... THE HEAVY STEPS YOU TREK AND TROD.
AND ONCE YOU GET THERE, ONCE YOU'VE SPENT YOUR TIME EXPLORING AND PISSING AND SPITTING AND PRAYING, OR WHATEVER IT IS YOU DO, DOWN THERE, YOU FALL DEAD ASLEEP.
BUT YOU WAKE UP.
(drunk)
AND THEN YOU START RUNNING.
A field of warning icons fills the screen, then, and I click "OK" on them all, only to view a porno site saturated with beautiful men covered in hair, with the horns of rams and square eyes and tails like devils, bucking.... I forget that I am dreaming and now, I am at work. There are the donuts in their pastry case. There are the fat women who want them. There is the sensation of repetition -- of the hourly wage, the feel, the drag of the shift --life at the cafe.
Without warning, I am sucked, vacuumed into the pastry case where I am trapped. The lights of the cafe dim gradually to entire blackness, like outer darkness. Somehow, in my panic, I notice that, slowly, stars appear in the atmosphere around the glass I'm in, beyond, in the distance. My claustrophobia supersedes my fear of the vastness of space and I use the instrument that has materialized in my hand to try to smash the glass casing. The instrument is a last name. A name unknown to me. A Jewish name. Maybe the name of one I will meet, one day, in the future. After thirty blows, the glass cracks in places and the suffocating air of inside collides, mixes and clashes with the immaculate air outside and I am choking.
I wake up. The former dream escapes me. The latter, I remember vaguely. I recall the donuts, only, the women wanting, only. I feel the utter emptiness of my empty dream all through me. I sit up, sigh and walk downstairs. My stomach, my guts hurt for my restless sleep so ineffectual it could not be deemed fitful, as far as I know. I open the fridge for a slice of cold pizza. My mother likes cold pizza, I think fondly in a mundane cloud of drowse. As I reach into the coldness, I hear someone whisper to me in a wheeze within feet of me. It registers, at first, as human, as in English, but, secondly, as nothing but demonic. Along with my heart, I freeze and clutch my chest. My mouth is open, my throat is closed, my eyes wide and blind with fear. Moments. Seconds. Finally, when I nearly am convinced that there is no intruder in the house, human or otherwise, I lock myself in the tiny guest-bathroom, turn on the fan, fall to the floor and weep.
This cannot go on. Where is this insanity coming from? I must get some sleep and so, like a child of myself, I regretfully acquiesce and light the hallways all the way to my room. I turn on a lamp and cagily check the closet. Safe.... Enough. (For now.)
Back in bed, I pick up a slim paperback. I'm doing the silly jumble of e.e. cummings' poetry. Perhaps the tedious, mostly totally useless brain-work of reading his shit will tire my mind, send me off somewhere, to some world … some high (sky) ... success. I sit up not too swiftly, click off the lamp and lay back down. I listen to the wind. With half closed eyes, I watch the lacy shadows of trees shake on my wall in watery three-dimension on two.
Suddenly, the clack of my roommates bedroom door. (He can't sleep, either.) I think, There must be something on the moon tonight. I think, When I moved out, eleven yeas ago, what the hell did my father do with my year book? Where in the world is my Ouija board?? Neither of these things are important to me. But, my father would not know that about me. So, once again, he is entirely blameless and so totally careless. Like a father.
My mind is racing again and, one by one, I am thinking sadly of my friends. Sad, lovely thoughts they feel like, ambling by ... I wish Paul would quit fetishizing things as intellectual pursuits that so obviously anger him. I wish that heat to cool so badly ... I wonder who Martha imagines herself to be, exactly, when she lies in bed, at night ... The only time I wish I had a vagina is when I wish to comprehend Corine's terrible fears of her own body. How she imagines her biological innards as a dry flood inside a rotting drainage system ... and, Of course Fernando doesn't take responsibility for his own actions - That's the last thing you want to do when you're running from yourself ... And I send out sleepy-sweet pulses of love to them all, throughout that thing which is not the sky but is the night. And I roll over, finally in comfort and I stroke his head, his thick hair and I run my palm over a rough ridge, there. A horn like a ram's. On my thigh, his tail. His square eye, wide open. Awake.




122706