HOME | BROADSHEETS | ARCHIVE | AUDIO | ITINERARIES | MIXTAPE | EVENTS | FAQ | RSS | LINKS
Advertise | Newsletter | About/Subscribe | Submissions | Art Walk | Books | THE2NDHAND Writers Fund

Finally, yes: Doug Milam joins the ranks of authors producing a THE2NDHAND broadsheet. Since we shifted to single-author editions in late 2004, 10 writers have stepped up, but none quite so unlikely as Milam. In this freshly designed, 27th edition of our broadsheet series, "A Little Money Down," Milam, both experimental in his gestures and authentic in his storytelling, gives us a portrait of a high-dollar criminal on self-willed loan to the arena of "real world" experience -- in the unemployment line, for one -- where his perhaps innate tendencies erupt at the local used-book shop. Yes. Used books. For more from Milam, visit his contributor's page here or his site here.

And for that new issue (sorry to keep you waiting so long), click on the thumbnail of the front side below. Options for ordering are below, and otherwise, look for it on the street in Chicago, Bham, Tuscaloosa, New York....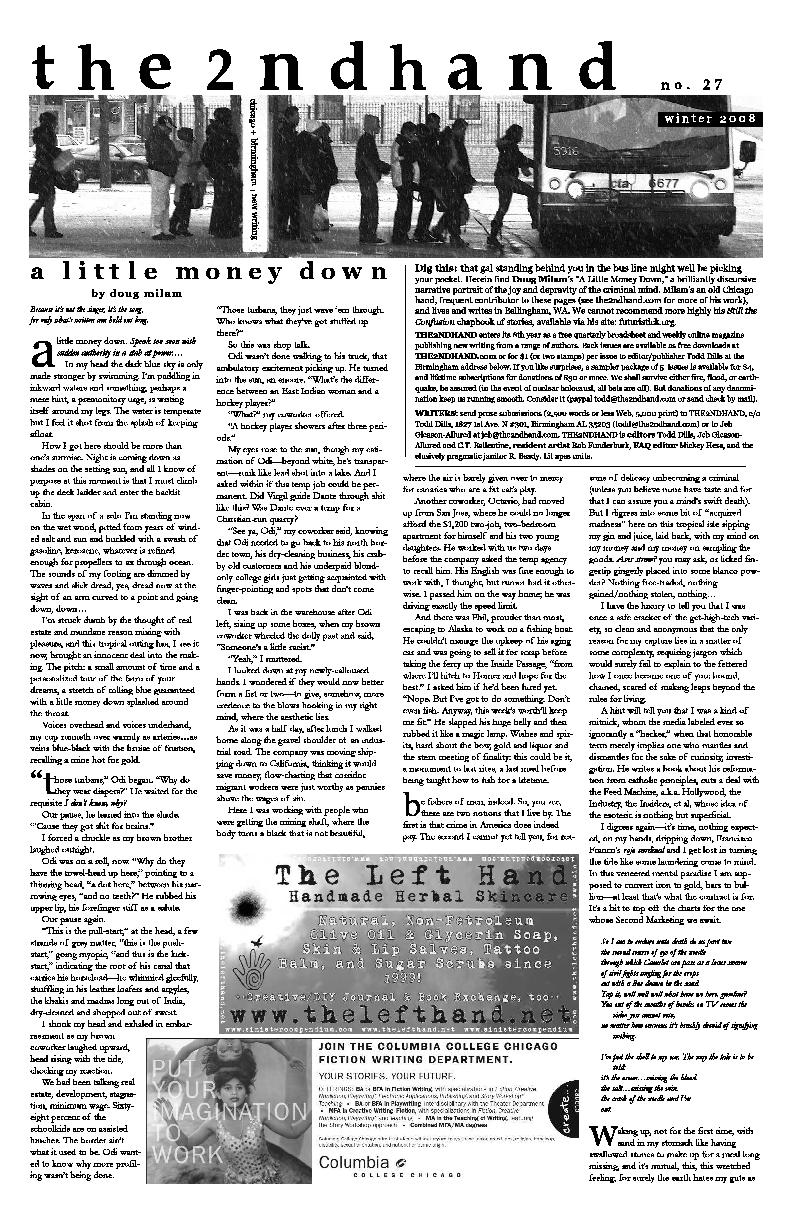 To order Installment 27 by mail, please send $2 to:

THE2NDHAND
4038 Clairmont Ave.
Birmingham, AL 35222
c/o Todd Dills

Or by donation using any major credit card via PayPal (allow a couple weeks for delivery):

A lifetime subscription for readers in the U.S. can be had for a donation of $30 or more. Checks can be made out to Todd Dills and mailed to:
THE2NDHAND
c/o Todd Dills
1827 1st Avenue N #301
Birmingham, AL 35203

USA

or send a payment through Paypal here:




020707