HOME | BROADSHEETS | ARCHIVE | AUDIO | ITINERARIES | MIXTAPE | EVENTS | FAQ | RSS | LINKS
Advertise | Newsletter | About/Subscribe | Submissions | Art Walk | Books | THE2NDHAND Writers Fund

THE2NDHAND's 29th issue builds on a concept we introduced to the Chicago reading/performance scene in July 2007 -- the Mixtape reading, wherein several writers cast short-short stories inspired by pop songs. The concept evolved after several incarnations of its live component to include a published series here at the2ndhand.com and, now, a broadsheet. The latest in our long-running print series includes Birmingham Art Walk contest winners Nadria Tucker and Emily Self, both past contributors to THE2NDHAND and both writing from Birmingham (Tucker actually won our 2007 contest), and a contribution from Zach Plague, author of the art-school satire/adventure novel Boring boring boring...
, out now from Chicago's Featherproof Books.
To read this issue, which also includes an excerpt from Sean Carswell's new book, Train Wreck Girl
, click on the thumbnail of the front side below. Options for ordering the broadsheet are below as well (orders typically include a couple back issues, though if there's one you're particularly interested in, please feel free to specify), and otherwise, look for it on the street in Chicago, Bham, Tuscaloosa, New York, L.A., New Orleans, Atlanta, Cincinatti, Philadelphia, Pittsburg....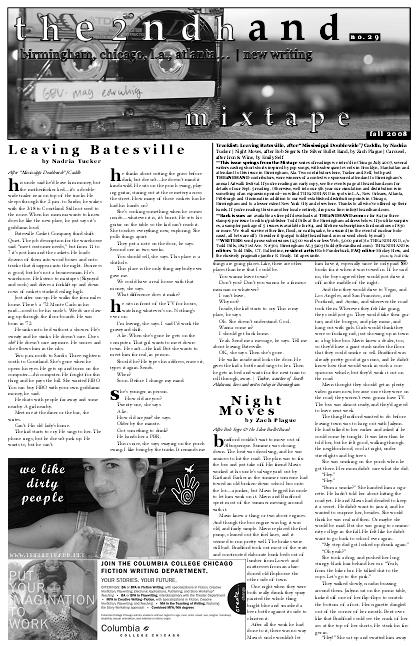 To order Installment 29 by mail, please send $2 to:

THE2NDHAND
4038 Clairmont Ave.
Birmingham, AL 35222
c/o Todd Dills

Or by donation using any major credit card via PayPal (allow a couple weeks for delivery):

A lifetime subscription for readers in the U.S. can be had for a donation of $30 or more. Checks can be made out to Todd Dills and mailed to:
THE2NDHAND
c/o Todd Dills
1827 1st Avenue N #301
Birmingham, AL 35203

USA

or send a payment through Paypal here:




082308