HOME | BROADSHEETS | ARCHIVE | ITINERARIES | MIXTAPE | EVENTS | FAQ | RSS | LINKS
Advertise | Newsletter | About/Subscribe | Art Walk | Books

Scott Stealey's "Cold Was the Ground" has us more excited about story than we've been in quite a while. Gina, protagonist, a rather lonely condo dweller/office manager, strikes up a fleeting friendship with one Porgo, an Eastern European construction worker who is burying on her property what Gina takes for a time capsule. But the metaphorical fix is in -- Porgo, an ESL student, may be leading Gina in directions she can't exactly get her head all the way around. Enjoy. Chicago writer Stealey is editor of the Please Don't online mag and has been published in several venues. Stealey participates in our June 2010 Nerves of Steel event (every third Sunday of the month at Whistler in Logan Square, Chicago).
To read this issue in pdf click on the thumbnail of the front side below. Options for ordering the print broadsheet are below as well (orders typically include a couple back issues, though if there's one you're particularly interested in, please feel free to specify), and otherwise, look for it on the street in Nashville, Chicago, Birmingham, Tuscaloosa, New York, Los Angeles, New Orleans, Atlanta, Philadelphia, Amherst...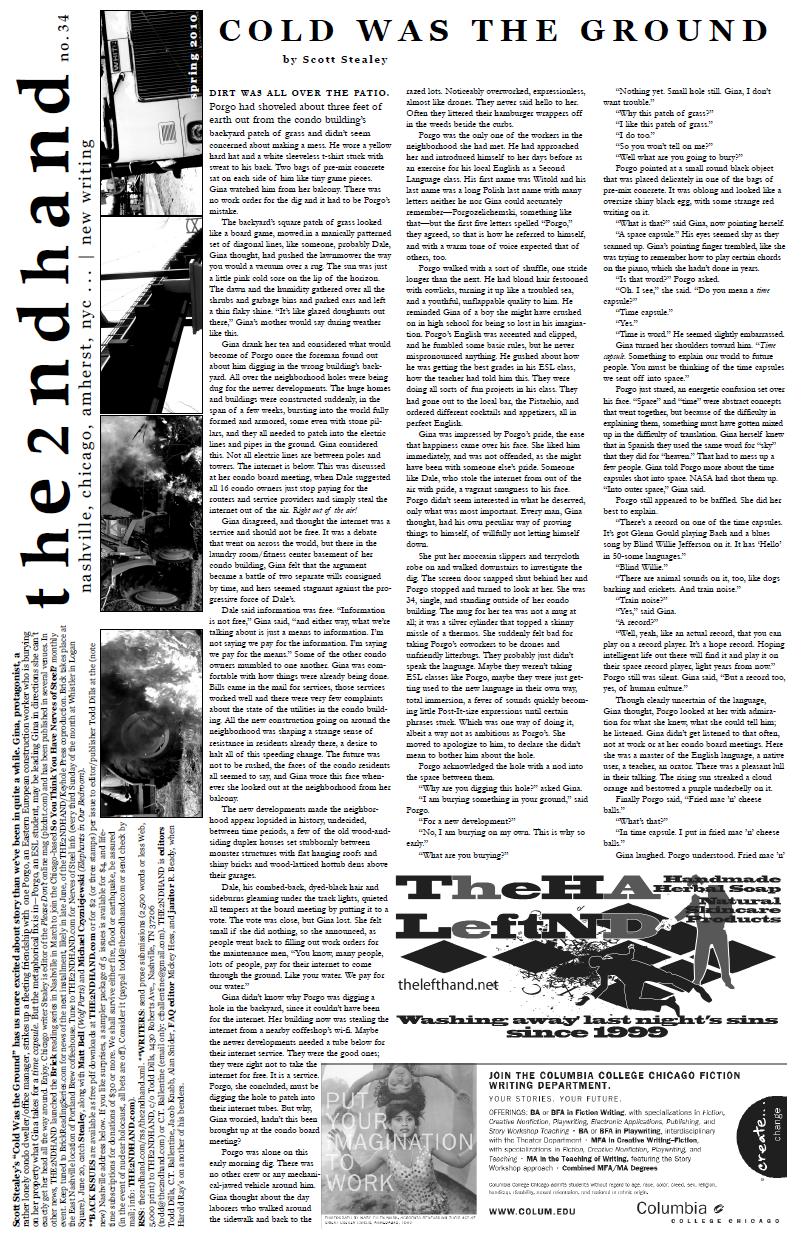 To order by mail, please send $2 to:
THE2NDHAND
1430 Roberts Ave.
Nashville, TN 37206
c/o Todd Dills
Or by donation using any major credit card via PayPal (allow a couple weeks for delivery):
A lifetime subscription for readers in the U.S. can be had for a donation of $30 or more, three years (or 12 issues) for $20. Checks can be made payable to Todd Dills/THE2NDHAND and mailed to:
THE2NDHAND
1430 Roberts Ave.
Nashville, TN 37206
c/o Todd Dills
or send a payment through Paypal here:
050210