HOME | BROADSHEETS | ARCHIVE | ITINERARIES | MIXTAPE | EVENTS | FAQ | RSS | LINKS
Advertise | Newsletter | About/Subscribe | Books

**PRINT: Amanda Yskampís THE SENTRY, broadsheet no. 36, marks the third in a series we're publishing leading into celebration of THE2NDHANDís 10+ years of publishing with "All Hands On: THE2NDHAND After 10," in fund-raising mode through Feb. 16. The pit bull in "The Sentry" stands guard in a robust section of new work that leads the "All Hands On" collection. Yskamp lives in and writes from the 10-year floodplain of California's Russian River. Her work has been featured in, among other magazines, Threepenny Review, Hayden Review, Caketrain, Redivider, and the Georgia Review. The issue also features illustrations by longtime T2H illustrator Andrew Davis and Nashville wood-block printmaker Martin Cadieux, whose THE2NDHAND block was used in custom prints of envelopes housing collections of broadsheets from our 10-year history.
**TXT: from MY WHOLE LIFE Ryan Richey
A PATCHWORK PILLOW T.J. McIntyre
MY PRETZEL HAS EYES Pitchfork Battalion
WING & FLY: 'LEAK' IS THE NEW 'PRESS RELEASE' | Todd Dills
MAYBE MAYBE Brian Warfield
STORMS Nick Ostdick
ARCHITECTURAL DIGESTION Garrett Socol
THE DETECTIVE DRIVES HOME Matt Pine
THE GIRLS TALK TO HER LIKE IT'S NOTHING Dominique Holmes
HIDEOUS BOUNTY: SEA SNAKE | Andrew Davis

from MY WHOLE LIFE
---
Ryan Richey
Chicago artist Richey calls his "My Whole Life" series of paintings paired with prose "my atypical coming-of-age," and it's comprised of more than 180 paintings in total, still ongoing. Check out the entirety at his site and enjoy the selected five below.
Gatlinburg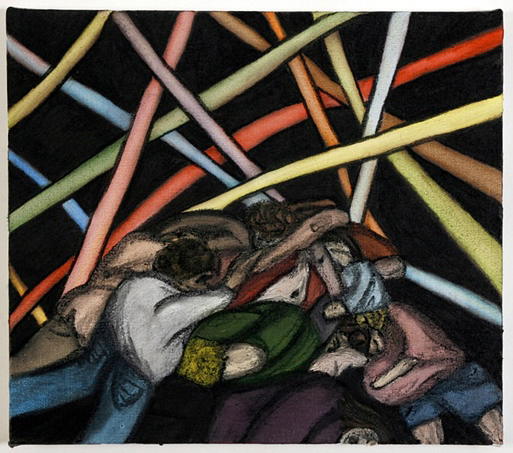 Drive twelve hours straight puffing log after log. KC, Nic, Jer, and T in tow, followed by Germy, Mom, and Hee. Spend the majority of the time locked in the master bedroom burning through a couple ounces while Mom reclines outside reading Danielle Steel. Toss beer bottles off the balcony.
To impress everyone I poop in a pizza box and heave it onto the patio below. The only time we leave is to go play Lasertag stoned to the bone. To the tune of Welcome to the Jungle we beat the shit out of each other midst smoke and blacklights.
Every other Saturday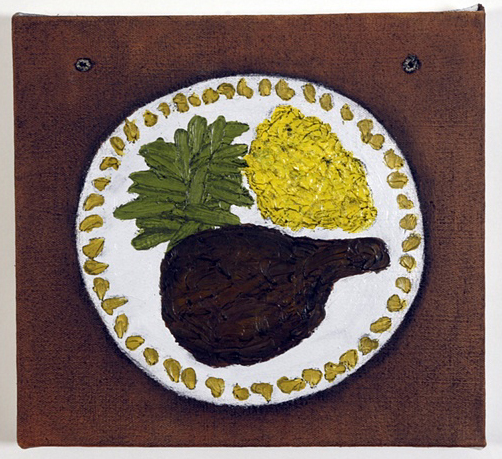 Grocery shopping at Becker's requires Mom to make a list of every meal she will fix for the next two weeks. Each plate must contain a meat entree and two color-coordinated vegetable sides. After she grabs a cart Hee and me run off to flip through teen magazines.
I do not kill my animals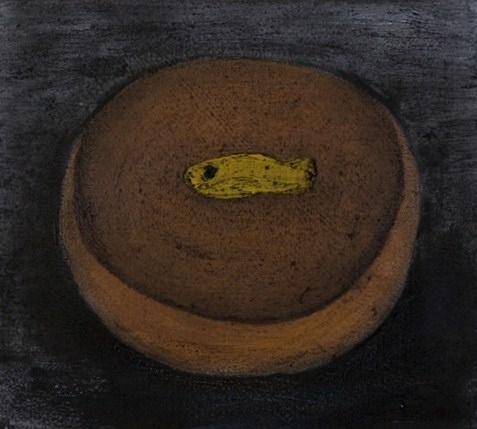 No, no, no, hey, I got it. I got it. The boys yap as they surround me. I stick my glove up in the air with all the others and come down with the ball winning the 1989 K-Town World Series at Barry Elzey field. That 's about all I do that day besides spilling Big Mac sauce all over me at the afterparty. For my heroics the coach's son gives me a carnival goldfish he won.
They die in a couple of days anyway, so you can keep him.
Well, mine doesn't. I call him Sarge and put him in a cereal bowl filled with tap water. Cats keep dipping and he keeps flopping out so I cover the bowl with netting.
Since he lives longer than expected and stinks up the kitchen he's exiled to Marion's goldfish pond, where he'll be with his friends, Mom tells me. I visit and try to pick him out of the murk, but they all look the same.
Mom later confesses to flushing him down the toilet.
Shriners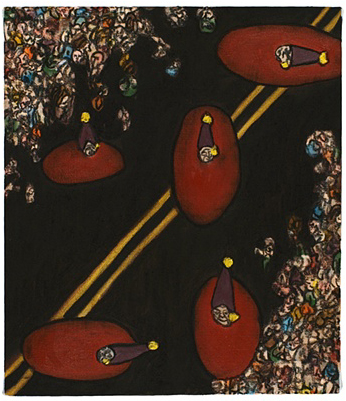 Jubilee Days is yet another reason for the elderly to don fezzes with Cleopatra clip-ons, climb into their go-karts and endanger children while careening down Main Street.
The End of the World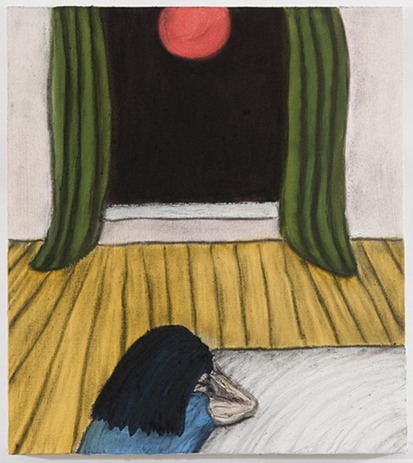 I pray and pray the night the moon turns red.


**SUBSCRIBE TO THE2NDHAND if you like reading our our respective broadsheet and online series -- any donation above $30 gets you a LIFETIME SUBSCRIPTION to THE2NDHAND's quarterly broadsheet. See this page or send a payment through PayPal via the "Buy Now" button or Amazon using the form below:
**BOOKS BY THE2NDHAND CONTRIBUTORS at Amazon
030211