HOME | BROADSHEETS | ARCHIVE | AUDIO | ITINERARIES | MIXTAPE | EVENTS | FAQ | RSS | LINKS
Advertise | Newsletter | About/Subscribe | Submissions | Art Walk | Books | THE2NDHAND Writers Fund

**PRINT: Our 30th broadsheet, GIVES BIRTH TO MONSTERS, by Chicago-based Spencer Dew, is a tale of one man's small heartbreak, the backdrop to a contemporary landscape of well-meaning but ultimately shallow political activism, fractured communicative lines, and more ultimately enduring drives toward total inebriation. In classic Dew fashion, he'll have you laughing all the way to brink of the void. Dew is the author of the short-story collection Songs of Insurgency
(2008). This issue also features excerpts from our David Foster Wallace collaborative mini-tribute by THE2NDHAND editor Todd Dills and Bellingham, Wash.-based Doug Milam, author of our 27th broadsheet
**WEB: TWO SHORTS FROM DAVID GIANATASIO David Gianatasio
THE CRASH OF THE AVALON Jasmine Neosh
DRINK IT IN Damian Caudill
MIXTAPE: LA LA Quincy Rhoads
NO SMALL FEAT Kyle Beachy
HIDEOUS BOUNTY: G.O.D. | Andrew Davis
NEW ADDITION TO 'I AM IN HERE': our tribute to DFW Pitchfork Battalion
STOIC COMMANDERS OF FAT MALE THIGHS, Part 2 Marc Baez
FAQ: THIS SWITCH TO DIGITAL TV IS DRIVING ME FUCKING CRAZY Paul A. Toth
WING & FLY: BEST OF 2008: SACRIFICIAL CIRCUMCISION OF THE BRONX, review | Todd Dills
BEHOLD MY MIGHTY TAG CLOUD
---
David Gianatasio
Gianatasio is a frequent contributor to THE2NDHAND and author of two books, most recently (2008) Mind Games
.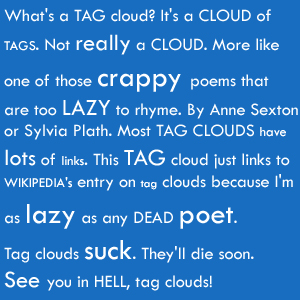 FLASHMOB OF ONE
---
David Gianatasio
Time: 3 a.m.
Place: Gramercy Park.
Attire: NASA surplus.
Refreshments: Oxygen supplied by our spacesuits.
Soundtrack: The hot new album that hasn't been released yet. What might it sound like? Big beats. Throbbing baselines. Jangling pop guitars. Soul divas. Retro synths. Mellow harmonies. Twisted harmonics. A cappella barbershop. C&W with a dash of R&B. Now, imagine something DIFFERENT.
Activity (A): Dancing in our gravity boots. Left step ... Right step ... Left step ... LEAP!
Activity (B): Waving our gloved hands like monkeys.
Activity (C): Spelling out with our bodies, "That's one small step for man, one giant leap for mankind."
Activity (D): Spelling out with our bodies, "dniknam rof pael tnaig, nam rof pets llams eno s'tahT."
Activity (E): Unlatching our helmets for a moment of silence for all the test animals shot into orbit in the early days of the space program.
Purpose: I'm an alien marooned on your world. I've taken on the guise of a human being in order to walk among you. I feel sick and confused all the time. Pounding headaches, day and night. Nausea that knows no end. You speak and your words say nothing. Transmission garbled ... Cannot Connect ... Cannot Connect ... I speak and my words say nothing. Transmission fading ... Cannot ... Cannot ... Connect ... Connect ... Connect ... Connect ...
---
Disclaimer: Please respond to this message. Even if you feel you have received this message in error, it's not much of a cross to bear.


**SUBSCRIBE TO THE2NDHAND if you like reading our our respective broadsheet and online series -- any donation above $30 gets you a LIFETIME SUBSCRIPTION to THE2NDHAND's quarterly broadsheet. See this page or send a payment through PayPal here:
OUR FRIENDS AT The Left Hand make great soap, salves, balms and other natural hygiene-type stuff, in addition to publishing a zine and running a book swap, a performance series and more from their Tuscaloosa, AL, homebase. When they offered to make something for us, we jumped. We introduce THE2NDHAND soap, an olive oil soap with a quadruple dose of Bergamot, "for the readers we've sullied..." Price is $6, ppd.


**BOOKS BY THE2NDHAND CONTRIBUTORS at Amazon
030209