PLAYMATE
---
Andrew Davis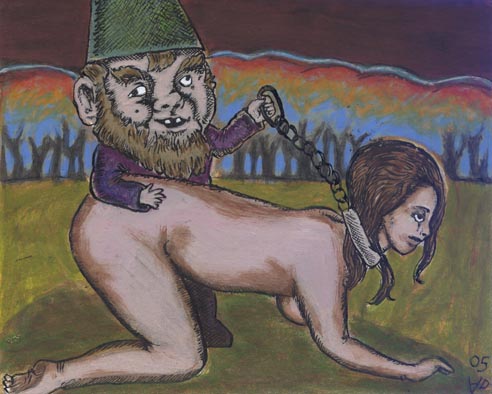 Angie lived down the street from me. She was a little older, and sometimes she would play Barbie with my sister. One day she asked me if I wanted to play a game in my room. We would pretend to be camping. She took all her clothes off and pretended to be asleep on the floor. I was supposed to be spying on her from the bed. She would lay on her back if I told her to, or if I wanted she would flip over. She looked weird to me because she had recently gotten chicken pox and her body still showed signs of it. When I got a little older I remembered this. I asked my sister if she thought Angie would want to play the game that we had played before. She said, Why don't you ask her. I never did.
PAST ANTIPURPOSE:
YES LORD
MUDHOLE
POLITE WAITER
FRIEND OR FOOD
MONKEYSUIT
PROPHECIES FROM THE MAGIC NUT
HOMELEE THE HOMELESS DWARF
A MESSAGE FROM THE HEAVENLY PIG
BABY CULT
BABY JANE BOZO
SNAKEFLOWERS
HEAVENLY PIG
PILLAR OF PURPOSE
SPILT MILK SUNDAYS
STATEMENT OF ANTIPURPOSE
Andrew Davis is an ordained minister of the Church of Motivation Without Direction and a firm believer that if all else fails, at least he had very little, if not nothing, to do with it.
102405