GESUSFUNLAND
---
Andrew Davis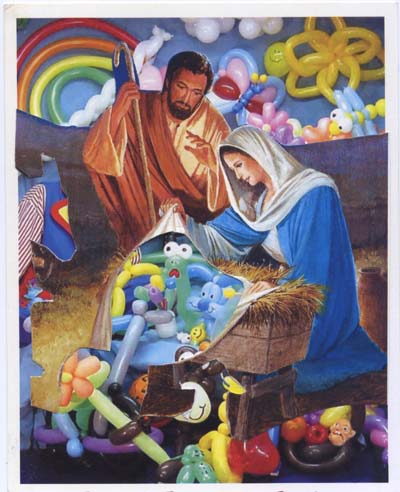 In the later part of the 21st century, when the world is destroyed, among the rubble of future generations will be pictures of abstract animal designs made of twisted inflated latex. These proclamations of pleasure and playfulness will be highly venerated and may be interpreted as wineskins, or receptacles for some kind of liquid offering. People will say, "I remember my grandmother used to wear a belt like that." The interpretations will lead to an attempt to re-create the past, and latex inflatables will be twisted into all kinds of forms. Western archaeologists will have a hard time presenting new finds because fundamentalists will have unwavering beliefs about certain twisted forms and their relationship to the ultimate truth.
PAST ANTIPURPOSE:
SALVATION
PLAYMATE
YES LORD
MUDHOLE
POLITE WAITER
FRIEND OR FOOD
MONKEYSUIT
PROPHECIES FROM THE MAGIC NUT
HOMELEE THE HOMELESS DWARF
A MESSAGE FROM THE HEAVENLY PIG
BABY CULT
BABY JANE BOZO
SNAKEFLOWERS
HEAVENLY PIG
PILLAR OF PURPOSE
SPILT MILK SUNDAYS
STATEMENT OF ANTIPURPOSE
Andrew Davis is an ordained minister of the Church of Motivation Without Direction and a firm believer that if all else fails, at least he had very little, if not nothing, to do with it.
120805